Anal-Ese Rotating Prostate Massager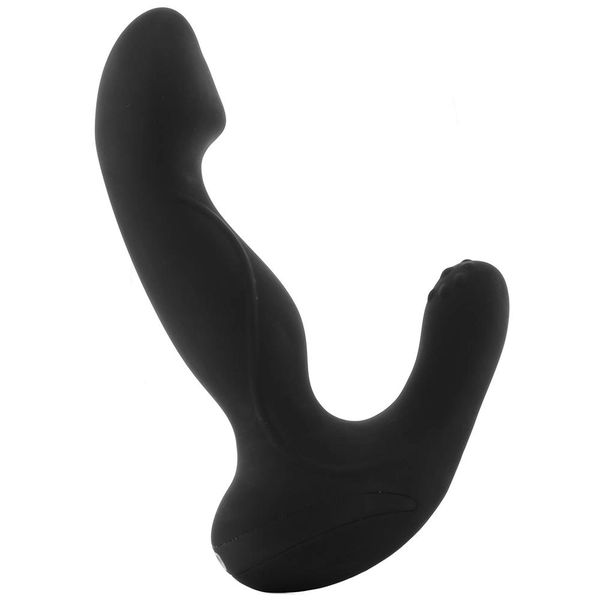 Taking full advantage of zillions of anal nerve endings and pleasure places, Nasstoy's Anal-Ese Rotating Prostate Massager was designed specifically for (nearly!) effortless stimulation of the P-spot. 
Prostate massage, or P-spot, if you prefer, is, according to many prostate owners, the ultimate act of over-the-top pleasure. The prostate is thought to be the brain center of sexual response, and stimulation of this nerve-ending rich area on the upper anal wall can bring on ultra intense, earth-shattering orgasm. Ready to give it a try?
Sexily curved and deeply textured, the Massager naturally rests against the orgasm-inducing prostate gland when inserted fully. Once in place, you (or your partner) can cue up three modes of tireless tip rotation. Meanwhile, a texture-tipped arm reaches up from curvy base just waiting to target your/his ultra sensitive perineum - cue 7 modes of steady, pulsating and escalating 'taint vibration with a touch of a button under the base.
USB rechargeable, the Rotating Prostate Massager powers up via an included USB charge cord. 1.5 hours of charge time will thrill for up to 2 hours.
In 100% skin safe silicone (shaft) combined with firm ABS plastic (handle), the Anal-Ese Rotating Prostate Massager is hypoallergenic, completely nonporous and virtually indestructible. Clean before and after use with some warm soapy water or a good toy care fluid/foam. Compatible with water based lubes only, avoid contact with silicone lubes, toys and products. Waterproof.