Anal-Ese Scrotum & P-Spot Stimulator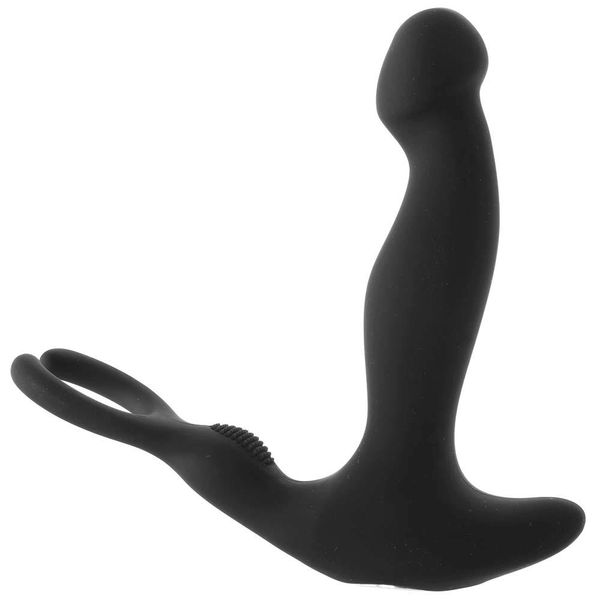 Helping you or your prostate-owning partner take full advantage of zillions (almost!) of anal nerve endings and pleasure places, Nasstoy's Anal-Ese Scrotum & P-Spot Rechargeable Stimulator was designed specifically for over-the-top erotic stimulation of the prostate gland, perineum AND ultra sensitive scrotum. 
Quick p-spot lesson: the prostate is thought to be the brain center of sexual response, and stimulation of this nerve-ending rich area on the upper anal wall can bring on ultra intense, earth-shattering orgasm. Ready to give it a try? Great!
With some help from a favourite water-based lube, slide the Scrotum & P-Spot Stimulator into place. Once in position, the swollen tip and purposeful angle will naturally target your or your partner's prostate gland. Below, a wide base comes complete with a textured pad that lines up with a wearer's perineum ('taint) and two soft, curvy prongs that slip around their balls.
Hit a dedicated power button at the base to unlock the Scrotum & P-Spot Stimulator's motor, then use the function button to explore ten modes of deep, pulsing vibration that throb evenly throughout the shaft and external stimulator.
USB rechargeable, the Scrotum & P-Spot Stimulator powers up via an included USB charge cable. 
In 100% skin safe silicone, this vibe is hypoallergenic, completely nonporous and virtually indestructible. Clean before and after use with some warm soapy water or a good toy care fluid/foam. Compatible with water based lubes only, avoid contact with silicone lubes, toys and products. Waterproof.