Avant Pride Lesbian Pride Dildo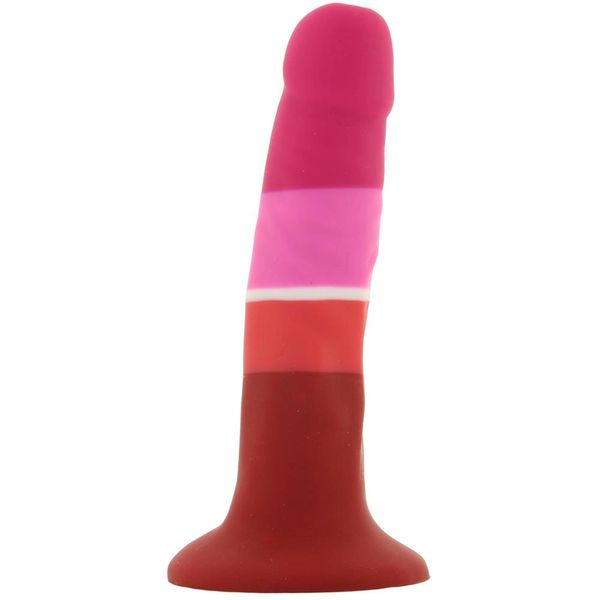 No word better sums up how we feel about people enjoying sexual positivity, freedom, expression and exploration than 'Pride'. So, needless to say, we're 100% on board with Avant's naming of a super-versatile silicone collection perfect for just about any type of play. On that note, may we introduce the P3 Beauty dildo?
Aside from a fun retro colour palette in pink, magenta and creamsicle orange, the petite P3 features some seriously versatile styling and a shape that hints at phallic. Sleek at the tip, this Beauty slips smoothly and stealthily into any waiting orifice. A subtle natural curve and plenty of flexibility helps target the prostate, G-spot and beyond with or without manual massage.
Perfect for pegging and strap-on play of any kind, the P3's widespread circular base anchors into many O-ring or open-front harness systems. If strapping it on isn't your cup of tea, you can easily stabilize that same base against most smooth nonporous surfaces, because it's also a suction cup! Press it firmly to windows, walls, counter tops or floors for a hands-free ride.
The P3 Beauty (and all toys from Avant's line) comes to you in the safest, most hygienic material available - platinum cured silicone. Completely hypoallergenic, non-reactive and safe for sensitive skin, the P3 is also extra easy to clean. Some warm soapy water or a good toy care fluid/foam will do the trick for everyday clean up, but if you want to be really thorough, this plug can be boiled or bleached. The P3 is compatible with any favourite water-based lube, but please avoid contact with silicone lubes and other silicone toys/products.