Blue Bunny Analfresh Anal Douche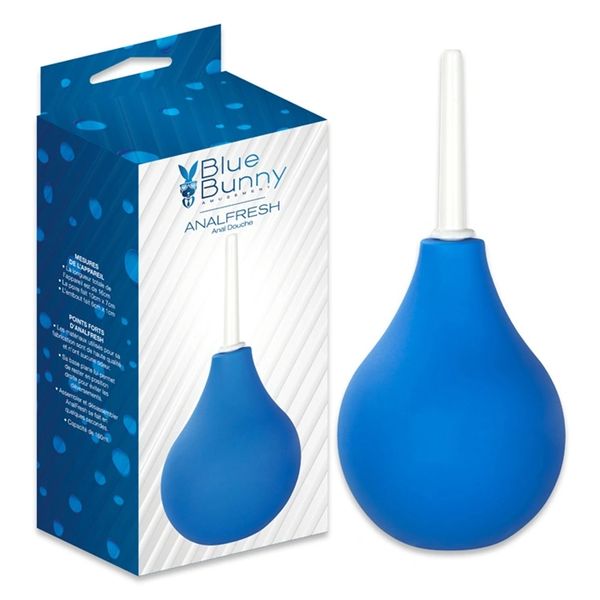 ANALFRESH, source of pleasure from the renowned Blue Bunny Collection. Safe, soft and flexible, phthalates and latex free, Blue Bunny is skin-friendly. The principle is very simple: you fill the ANALFRESH with water at a temperature that suits you, then with a simple pressure of the baster the liquid is released. ANALFRESH is designed for rectal hygiene, but also used for vaginal hygiene. By putting some lubricant on the tip, whether water-based or silicone, makes the experience more enjoyable while having as a primary goal, a good hygiene. It is not recommended to use it while in the bath. However ANALFRESH is suggested when sitting on your toilet or in the shower. The capacity of 160ml of ANALFRESH, allows a rapid enema. (If you want a more complete enema, please use ANALCLEAN with a capacity of 310ml also available by Blue Bunny).
MEASUREMENTS OF THE DEVICE
.The total length of the device is 16cm
.The baster is 10cm x 7cm
.The tip is 6cm x 1cm
STRONG POINTS OF ANALFRESH
* The materials used for its manufacturing are of high quality and have no smell.
* Its flat base allows it to stay upright to avoid spilling.
* Assemble and disassemble ANALFRESH is done in a few seconds.
EASY MAINTENANCE
ANALFRESH is made of ABS plastic and rubber, they are both phthalates free. Simply rinse with plenty of water and use a soapy antibacterial liquid. Then let stand in a dry place.
ANALFRESH another product of the brand Blue Bunny, which offers you a perfect balance between comfort, efficiency, safety and price…Enjoy!