Body & Soul Entice Pleasure Balls in Purple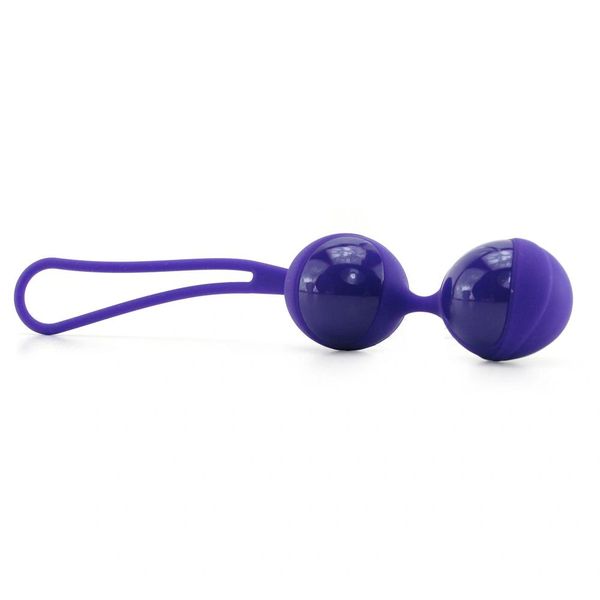 Luxuriously designed and amazingly user friendly, Body & Soul's silky silicone take on the classic ben wa ball was crafted for perfect customization, pleasurable wear, and even more pleasurable results. Tucked securely into a silky, completely body-safe silicone girdle, two wonderfully weighted balls add tension against which the vaginal muscles contract with movement and kegels, plus exciting, jiggly vibration.

Historically, ben wa balls have held a place in history, both sexually and in health-related scenarios- from Japanese courtesans to more modern gynecological and obstetrical practices. These days, this type of tool is used most often for vaginal strengthening and to increase sexual awareness- the weighted balls help tone the muscles in the pelvic floor responsible for sexual pleasure, while keeping the vaginal walls elastic and responsive to stimulation and pleasure. The Entice set is certainly manageable the relatively light weight (3.8oz) and larger diameter is well suited to beginners and casual users, not to mention simple pleasure seekers.

Aside from the practical applications of this fantastic system, the Entice is a way to gain increased sexual awareness, moving around while wearing the beads creates a pleasant, subtle feeling of pleasure, as the free form weights within the balls gently vibrate and jiggle, naturally stimulating the vaginal area. Many women love the feeling of the beads inside them, and find that it increases desire. Since this set is so incredibly discreet, you'll be able to wear it unbeknownst to anyone, letting you get your workout (or simple pleasure) secretly and enjoyably.
Both the balls and girdle are completely body safe, phthalate free and extremely hygienic, not to mention hypoallergenic and perfect for users with sensitive skin. Use a good water based lubricant, if needed, avoid silicone formulas and contact with other silicone toys whenever possible.

Specifications

Length - 7 1/2" 
Insertable Length - 3 1/2"

Girth - 4 3/4"
Width - 1.4"
Weight - 3.8 oz (107.7c)

Material - Silicone, ABS plastic
Special Features - Discreet, hygienic, hypoallergeninc

Color - Purple