Booty Call Booty Rocket (2 Colours)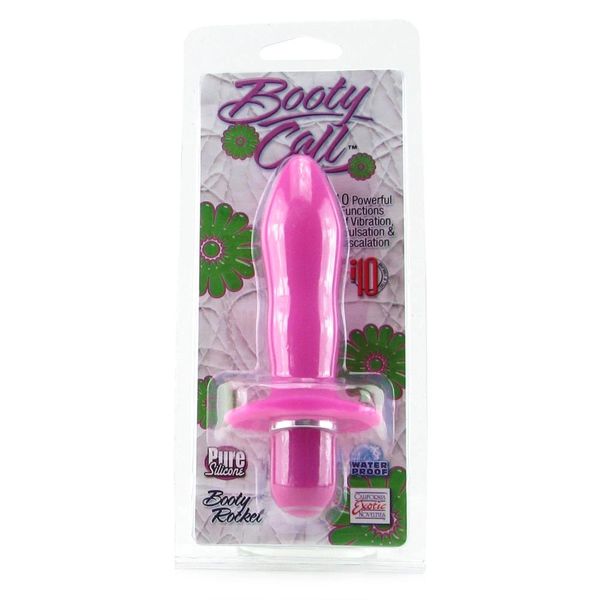 Enjoy endless pleasure with the Booty Call™ Booty Rocket™, a smooth probe complete with 10 massage settings. This is an advanced size probe, designed for full prostate stimulation and personalized pleasure. The tapered shaft allows you to work your way up at your own speed while the 10 unique vibration settings give you complete control of the vibrating probe. The smooth silicone probe is safe and comfortable to use, measuring 4.75"in length and 1.25" in width and its pliable nature gives you flexibility of movement plus easy application and retrieval; complete with a tapered shaft, you can personalize your own prostate pleasure and enjoy the different stimulation with each area of the probe. The 10 different pleasure settings include a series of vibration, pulsation, and escalation so you can tease, play and tantalize with a choice of changing sensations. With a simple one button control, the vibrating probe is easy to use, either one your own or with a partner and the push button system gives you complete control of the probe and its massaging vibrations. 

The vibrating probe also features a broad base which makes it safe to use and easy to retrieve; and for that luxury touch, the handle has been finished with a body safe velvet coated plastic with a designer silver décor ring. The vibrating probe is a fantastic choice of probe and massager combined, made of safe and pure silicone material for the most intimate areas. Requires 1 AA battery to operate.
Are you looking for a Booty Call? Explore the amazing world of anal stimulation with the 10 Function Booty Call Booty Rocket butt plug. Its tapered shape for ease of entry the Booty Call will do more than just please you. The easy push button control system is situated in the center of the base of the plug for easy reach if you are alone. This soft and pliable vibrating silicone probe will enhance your play whether you are a beginner or experienced. The stopper will give you the secure feeling that the probe will not "get lost" during play time. Choose one of the 10 vibrating sensations of stimulation.
• 4.75" x 1.25"/12 cm x 3.25 cm
• Soft and pliable vibrating Silicone probes
• Tapered for personalized pleasure
• 10 powerful functions of vibration, pulsation, and escalation
• Push button control with LED light
• Silicone (probe) ABS with PU Cote (cap) ABS with Silver Plating (décor ring)
• 1 AA battery (not included)
• Colour: BlacK
• Recommendation: Use lots of water based lubricant only.
Silicone