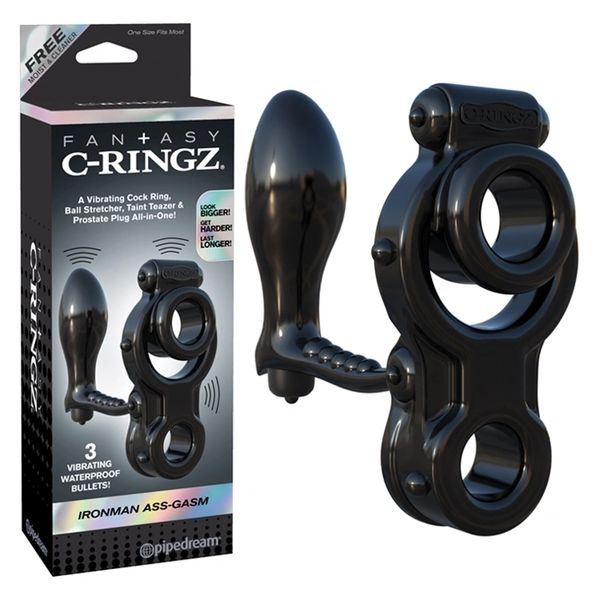 When you're looking for rock-hard erections, superhero endurance, and rock-hard results, the Ironman Ass-Gasm is the ultimate all-in-one weapon. to combat poor performance and gives you an added advantage. With its 3 waterproof egg microphones providing pleasure and fun, this ultimate vibrating ring will make you both lose your mind! 
Push your bundle to its maximum potential and enjoy super tight support on your testicles while you stay harder and bulkier than ever. The ball extender pulls down on your testicles and prevents them from retracting upwards, thus delaying ejaculation and prolonging pleasure. There is an egg located above the ring to stimulate the clitoris, another, below the testicles, for an incredible 'buzz', and a third egg for the anal plug to frantically stimulate the prostate.
 Made from our super stretchy, body-safe TPR, this three-ring harness has been designed to give you the most intense and satisfying orgasms! The top ring squeezes your shaft, The top ring squeezes your limb, the center ring wraps around your entire package, and the ball expander will waltz them between your legs for an incredible sensation! Put the cock ring around your cock and stretch the large crown around your balls, then stretch the lower ring and shoot your balls through. Your orgasms will never be the same again!
With the Ironman Ass-Gasm anal plug inserted and the three rings fitted tightly around your penis and testicles, you'll be harder and more fiery than ever before! The soft round anal plug moves in and out in the blink of an eye, and its slim, tapered shape keeps it snug between your butt cheeks, even during your lovemaking. Each movement of the penis ring will move the anal plug thus providing a massage of the prostate thanks to the striated stimulator. You can wear it all day, under your clothes, without anyone finding out your secret! 
Made of TPR, latex and phthalate free, you can enjoy it with confidence with water based lubricants.