Candy Hearts "Ride Me" Medium Butt Plug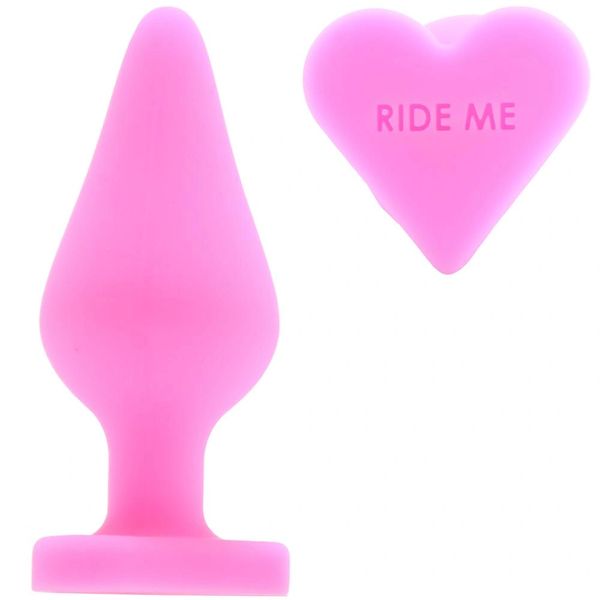 Okay, so a butt plug may not 
necessarily
 be the first thing that comes to mind when/if you're ever daydreaming about candy hearts. In fact, a relationship between those two things has probably never crossed your mind. You're not alone! But lucky for all us butt play lovers with a sweet tooth, Blush's Candy Hearts Ride Me Medium Butt Plug is here to make the connection.
Sliding smoothly into your or your lucky partners derriere, the perfectly mid-sized Ride Me is just the thing for novice butt players. Silky-sleek at the tip and manageably filling below, this classic plug provides a sexy stretch along with plenty of anal sweet spot stimulation. 
Now, exactly where (you might be wondering), does all that candy heart business come into play? Well, like any good butt toy, the Ride Me features a big widespread base that essentially anchors to the outside of your body to prevent any too-deep slips. That base is shaped into a - wait for it - candy heart! You'll be able to play worry free, and also insert, remove and adjust the plug comfortably. If you're into longer term wear, the Ride Me is perfect. A slim neck at the bottom keeps everything nice and secure.
The Ride Me comes to you in the safest, most hygienic material available - platinum cured silicone. Completely hypoallergenic, non-reactive and safe for sensitive skin, the Ride Me is also extra easy to clean. Some warm soapy water or a good toy care fluid/foam will do the trick for everyday clean up, but if you want to be really thorough, this plug can be boiled or bleached. The Ride Me is compatible with any favorite water-based lube, but please avoid contact with silicone lubes and other silicone toys/products.