Classic Whisper Micro-Heated Bullet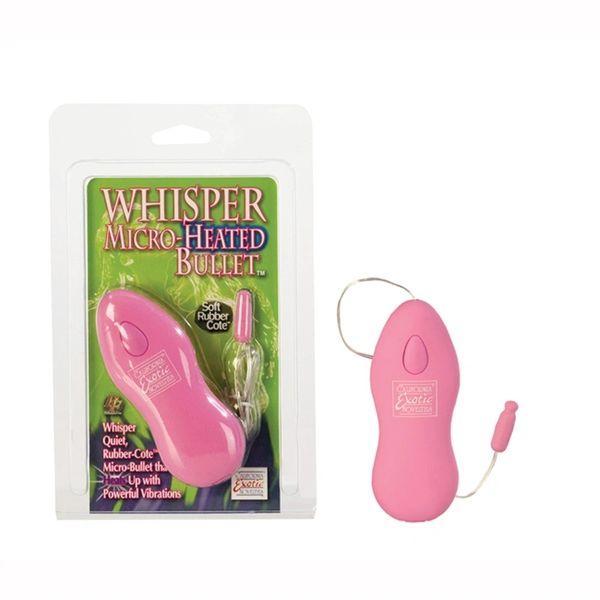 Get the 2-speed Whisper Micro-Heated Bullet™ in black for discreet massage and fun at home or away. This handy little massager is perfect for intimate massage, stimulation or relaxation anytime and anywhere – plus it comes with a whisper quiet motor to keep your private playtime as discreet as possible. The micro bullet is made with a smooth, high-quality silver plated finish; it is safe to use on your skin and can be used anywhere on the body, and is especially fantastic for your erogenous zones and your most intimate areas. Attached by a cord to a simple control pad, you can control the vibrating pleasure function from one single push button. The micro bullet features a pinpoint tip that heats up with the powerful vibrations. The comforting, arousing warmth together with the 2-speed vibrating action will help to increase blood flow and circulation, while giving you the ultimate bodily stimulation for foreplay or private playtime. 
This micro-heated bullet is so deceiving, don't let its size fool you. When placed in or on your body, the micro bullet will heat up with powerful vibrations and will start to stimulate in moments when turned on. Its whisper silent motor will not attract attention, although your look of satisfaction might. With the 30" (76.2cm) cord you will be able to reach any destination on your or your partner's body. The controller fits comfortably in your hand with easy access to the on / off switch. The Whisper Micro-Heated Bullet comes with 2 speeds but you may only need one. Powerful and deceiving, you will wonder why you haven't used this before. Remember in this case, it's not the size but the power that matters.
1" (2.54cm) Micro-bullet length
0.34" (0.86cm) Micro-bullet width
4.64" (11.78cm) Controller length
1.82" (4.62cm) Controller width at widest point
30" (76.2cm) Cord length
2 Speed - Easy on / off switch
Soft Rubber Cote™
Powerful
 Pink
2 AA batteries required (not included)