Crystal Chic "G" (2 Colours)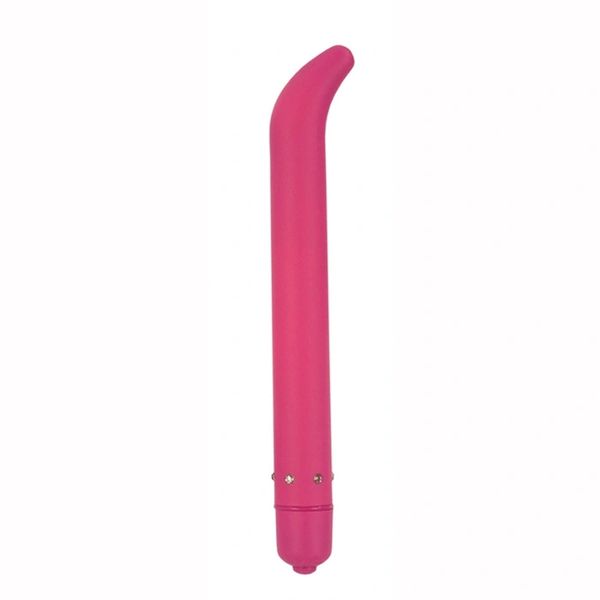 Crystal Chic™ "G" Vibe is an elegant, super slim, discreet g-spot massager adorned with genuine high-quality crystals. Offering beautiful styling and intense pleasure, this designer-styled massager comes with a couture case and features multi-speed use for the ultimate in satisfaction. The massager is crafted of ABS with silky smooth Velvet-Cote™ (PU Cote), making this stunning vibrator as safe as it is packed with stimulating pleasure. The sex toy feature advanced electronics that allow a full 14 hours run-time on low speed and 7 hours on high speed. It's easy to operate, too, with a simple yet supremely satisfying 3-speed choice an EZ push button control. For a great new adventure in the bedroom - whether you're enjoying yourself solo or with a partner, Crystal Chic™ "G" Vibe will get those 'good vibrations' going. Find the passionate enjoyment you crave and achieve incredible satisfaction. If you're ready for the best in satisfaction, then our awesome sex toy will help you achieve all the sensation you want, and lead you to a more thrilling sensual experience and gratification that can't be beaten.

If the Crystal Chic vibrating collection is what you are interested in but it is not quite reaching the sweet spot then the Crystal Chic "G" spot is for you. This elegant and slim Crystal Chic "G" vibrator will add class to your collection. With the curved tip to caress your inner most sweet spot, this Crystal Vibe will pleasure you in ways you cannot imagine. You are not only able to use this toy inside but use it outside to stimulate your other erogenous zones for added exploration. The genuine high quality crystals circle the base of the vibrator and will add sparkle to your playtime activity. With its easy push button 3 speed control, set the vibrator to your desired vibration level and let your imagination wonder. With the advanced technology the Crystal Chic can run 14 hours on low speed and 7 hours on the highest speed although it will only be minutes before you have reached your level of pleasure. Its silky smooth softness and seamless appeal and curved tip this "G" will heighten any playtime activity.

• 5.5"x .5"/14 cm x 1 cm
• Elegant, super slim, discreet massager adorned with genuine high quality crystals
• Advanced electronics for 14 hours run-time on low speed, 7 hours on high speed
• 3-speed with easy push button control
• Silky smooth satin finish
• ABS with Velvet-Cote™ (PU Cote)
• 2 AAA batteries (not included)
• Waterproof
• Colour: Pink, Black