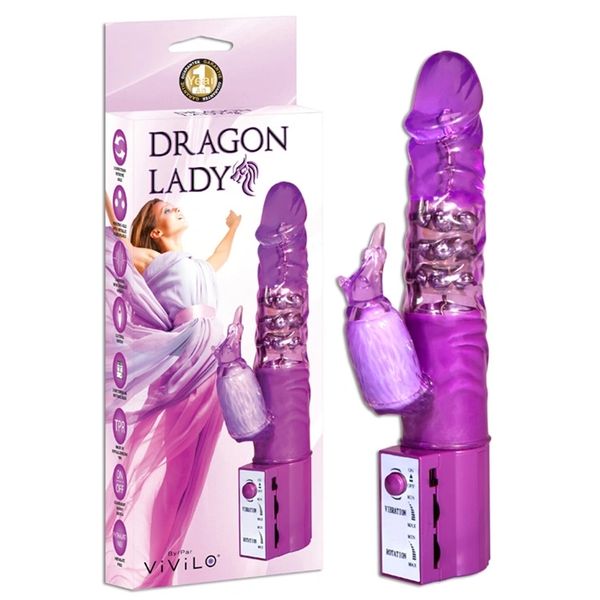 Dragon Lady 
Dragon Lady is a powerful battery operating, vaginal clitoral vibrator. Smooth texture, variable speed, and quiet like a delicate chirping; it owns all the merits of the leading expensive brands for an affordable price. Because of the quality and strength of the Dragon Lady, it knows how to satisfy the most demanding persons.
Dragon Lady offers two powerful motors; the first one activates the rotating axle and the second one is there for the clitoral part. Both assure a constant stimulating contact for the two areas. The rotating axle of the Dragon Lady is strong and the metallic pearls in its center are firmly fixed and are giving a gentle vaginal massage while spinning like a whirlwind of pleasure. The second motor, the clitoral one is covered by a dragon with a sticky energetic tongue, so energetic that sometimes the pleasure comes too fast. In short, Dragon Lady is a solid investment ant a lot of fun, good for many years of enjoyment with low maintenance.
Features of DRAGON LADY
Made of TPR allergy free and phtalate free
Two directions and variable speed rotating axle
Firmly fixed metallic pearls inserted in the rotating axle
Clitoral motor with variable speed and moving tongue
Reversible direction gyrating axle
Convenient On/Off Switch
Length: 10" Base to Tip. 7" Insertable
Head circumference: 4.5"
Shaft circumference: 4"
Material: phtalate free medical grade TPR.