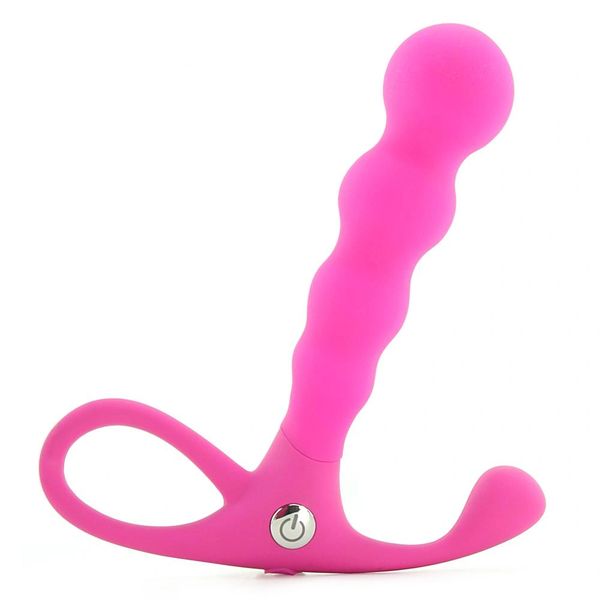 With its dramatically shaped, decidedly curvaceous tip perfectly targeting the male g-spot, a softly rounded perineum pleaser stimulating from underneath and seven incredible modes of vibration to choose from, the silky silicone Embrace Beaded Probe from California Exotics was tool was cleverly and thoughtfully designed for orgasmically successful p-spot massage. 

Classically effective in shape, the velvety beaded shaft is reverse-graduated, with the widest sphere up top gently and inexorably widening the anal opening, allowing it, and the following beads, to naturally rest against the ultra sensitive prostate gland when positioned just right. Reaching out from the base, a sleek, firm little tail is placed to press thrillingly against the perineum- a highly sensitive area that, for many men, will up the pleasure ante still further. This arm, as well as a big looped handle opposite easily protects against too-deep penetration while allowing for perfectly controlled manual manipulation. Enhancing the Probe's precision positioning and amazing smoothness, those seven modes of steady and pulsing vibration spread remarkably evenly through the entire shape, ranging through three speeds of steady vibration before giving way to four patterns of pulsing and escalating stimulation. Completely rechargeable, this vibe powers up via USB, it can be plugged directly into a USB source  or used with a compatible adapter. A 70 minute hour charge will see the motor powered up for 2-3 hours of continuous use.

The extra smooth, silky Pure silicone construction only adds to the immeasurably pleasurable shape of this vibe- thanks to the temperature sensitivity of this premium material, this tool will quickly reach body temperature with use, and can be warmed or cooled more dramatically before play. Silicone is also amazingly hygienic, a must-have feature in any anal toy, this massager can be fully sterilized with a dip in boiling water or cleansed with simple soap and water. Always choose a great quality water base lubricant to enjoy in combination, silicone formulas should be avoided, as should contact with other silicone toys and products. Waterproof.

Specifications
Length: 4.75"
Insertable Length: 4"
Girth: 3.5" at largest point
Width: 1" at largest point
Materials: ABS Plastic, Silicone
Power Source: USB Rechargeable
Special Features: Flexible, Hypoallergenic, Multi-Function, Non-Phallic, Phthalate Free, Smooth Surface, Temperature Sensitive, USB Rechargeable, Waterproof
Color: Pink