Fantasy Series Sex Harness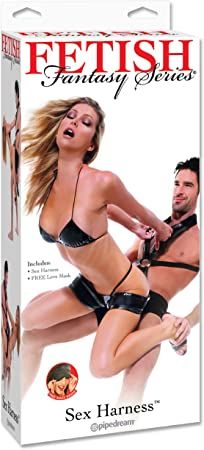 Get the perfect position for pleasure every time with the fetish fantasy sex harness. This full body support sling can instantly turn an ordinary erotic encounter into a night of excitement and experimentation. With the sex harness, there's no need for bulky ceiling swings, position pillows or any other sex furniture. Just slide the full body harness on, strap your partner in, and get ready for incredible positions and explosive adventures. Enjoy all the advantages of an anchored sex swing without having the actual swing.
The sex harness helps you effortlessly support and maneuver your partner, allowing you to get closer and more intimate than ever before. Difficult sexual positions are no longer limited to the gifted and sexually athletic: with this simple over-the-shoulder harness, you can control your lover's movement like never before. Indulge together in satisfying sex, without worrying about tiring or over-extending yourself.
Enjoy weightless penetration, in any position you can imagine, thanks to the sturdy leather thigh straps and easy-grip chest handles. Simply slide your partner's legs into the padded thigh straps, grab a hold of the rubber chest handles and get ready for the wild ride. The padded neck cushion takes the strain off your neck and shoulders, while the straps easily adjust to fit most sizes. Go ahead, explore your deepest fetish fantasies.