Feather Nipple Clamps & Butt Plug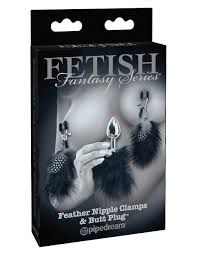 The Fetish Fantasy Limited Edition Feather Nipple Clamps & Butt Plug is the perfect combination of fashion and fetish and a must-have set for any kink enthusiast.
Made with durable metal clips and covered in soft rubber liners, these nipple clamps are perfect for beginners and look as great as they feel. The amount of pressure you apply to the nipple is adjustable by turning the screw, while the soft faux feather streamers tease, tickle, and titillate!
The small metal butt plug features a bright shiny finish and a sturdy retrieval ring underneath the soft faux feathers. With its tapered tip, slim neck, and wide round base, the plug fits comfortably between your cheeks and can be worn for extended periods of time.