Flex It Up! Pliable Silicone Probe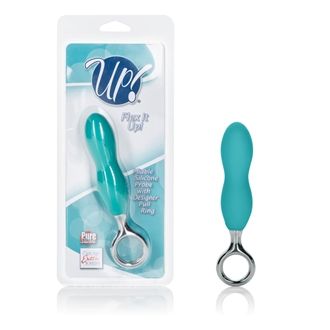 Boasting the silkiest of velvety silicone construction, extremely manageable styling and a flexible, forgiving feel that's nevertheless extremely satisfying, the subtly swollen Flex It Up! Probe is a must-have for anal adventures across the pleasure spectrum. Comfortably tapered, smoothly seamless and naturally stimulating, this curvaceous penetrator is pliable and extremely easy to manage- a large ringed handle provides a sturdy grip at all times while protecting against too-deep insertion.

The high end Pure Silicone material comprising this Up! piece is absolutely unparalleled in terms of safety and cleanliness- this set is safe for even the most sensitive skin, as silicone is completely hypoallergenic and non-irritating. The texture is truly like nothing else, combining firmness with a dreamily supple surface that warms quickly and naturally to match body heat as playtime progresses. Boil-able, bleach-able and dishwasher safe, the Up! Probe is extraordinarily hygienic, a must-have feature in any good anal toy. Always use a great water-based lubricant with this and any silicone toy, silicone formulas should be included, as should contact with other silicone toys and products. 

Specifications
Length: 6.25"
Insertable Length: 4"
Girth: 3.9" at largest point
Width: 1.1" at largest point
Materials: ABS Plastic, Silicone
Special Features: Flexible, Hypoallergenic, Non-Phallic, Phthalate Free, Smooth Surface, Temperature Sensitive, Waterproof
Color: Teal, Purple