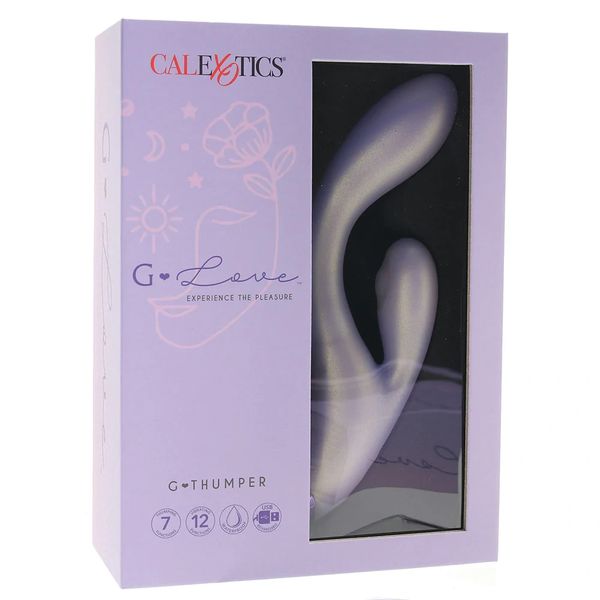 If you're currently reading this, congratulations! You've managed to drag your eyes away from the sheer gorgeousness of the G-Love G-Thumper. Trust us, we know how hard it must have been. Here's the thing though, aside from a silky, two-tone gold and violet surface, a beloved double-the-pleasure shape and twelve rumbly modes of vibration, the G-Thumper also showcases a very special thumping stimulator that pulses and throbs tirelessly against your/your partner's clitoris and beyond. Not just a pretty face, as they say!

The G-Thumper's classic curvy shape was specifically tailored to simultaneous inner and outer sweet spot pleasing. Yes, it looks amazing, as we've already been over, but it feels even better. Smooth at the tip, the G-Thumper penetrates comfortably and very pleasurably. There's lots of length to play with when it comes to finding that perfect fit (and your/their g-spot) as twelve dreamy vibe modes pulse and throb at your command.

Like all fantastic rabbit vibes, the G-Thumper features a clitoris-adoring stimulator reaching up from below. In the G-Thumper's case, that stimulator is also where the namesake thumping potential comes pounding onto the scene. At the tip of the up-reaching curve, an extra-intense motor placed under a soft patch literally thumps and thuds for a totally unique, ultra deep sensation. Take your pick from seven possible thumping modes, which can be orgasmically mixed and matched with shaft vibration. You can certainly enjoy the vibration or thumping functions alone, but we highly recommend pairing them up!

A dedicated power button activates the G-Thumper's motor, cycle through seven thumping modes with the button below, and use the bottom button to cue up shaft vibration. 

Conveniently rechargeable via USB, the G-Thumper powers up using the included cable and any free USB port (or compatible adapter). Approximately 2 hours of charge time will provide up to 1 hour of enjoyment.

In 100% silicone, the G-Love G-Thumper is body safe, phthalate free and extra hygienic. Wash well before and after playtime using warm soapy water or a good toy care fluid/foam. If you'll be pairing a lube with this vibe, please use a favourite good quality water-based formula. Please avoid contact with silicone lubes, and store away from other silicone toys. Waterproof.
Features
Length: 7.5"
Insertable Length: 4.75"
Girth: 4.25" at largest point
Width: 1.4" at largest point
Materials: Silicone
Power Source: USB Rechargeable
Special Features: Hypoallergenic, Multi-Function, Multi-Speed, Non-Phallic, Phthalate Free, Smooth Surface, Temperature Sensitive, USB Rechargeable, Waterproof
Colour: Purple