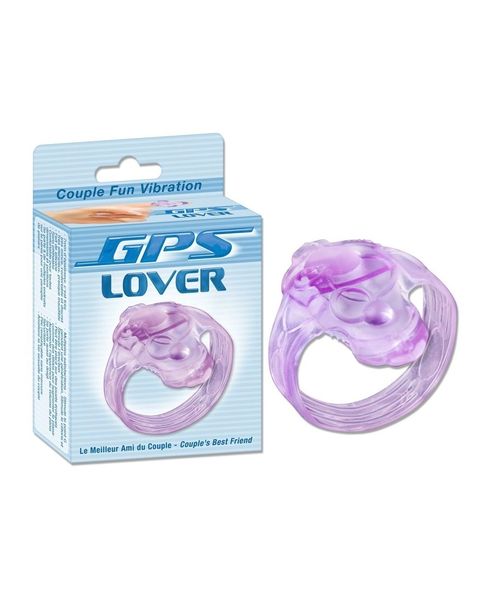 The GPS Lover is the first and only micro-vibrator designed to stimulate the G spot during penetration. It can be used in many ways and will also excite the clitoris, stimulate an erection, and transform the penis into a vibrating penis while providing total comfort for the couple.
Easy to use, it starts with a small switch on its side. Ultra-compact and powerful, it's not even 7 mm thick… it is truly very thin. In fact, the GPS Lover is the world's most discrete cock ring. Comfortable and extensible, it can be placed on the penis or over fingers in order to stimulate all the regions of the body you wish. It is adjustable no matter his size, the size of your fingers, or what positions you choose.
Place it just below the gland, in the middle, or at the base of the penis and take advantage of all that the GPS Lover has to offer. Placed just below the gland, it stimulates the G spot. Placed in the middle of the penis, it vibrates him and her. Placed at the base of the penis, it reinforces the erection and stimulates the clitoris.
Very safe, it will be delivered to you sealed in a cellophane envelope placed inside a box along with instructions in French and English and a battery.  P.S. The battery lasts approximately 45 minutes, so we suggest that you purchase some replacement batteries (3 per package). The code is: No.SDCR2016.  You can find them at your favorite retailer featuring GPS Lover.
There is a GPS inside your GPS Lover, as it was created mainly for the purpose of stimulating your G spot… It's a GPS for the Grafenberg Spot! But GPS Lover is much more than that. Have a quick look below at the complete list of features:
Features of the GPS Lover
-7 mm thick, which is very, very thin, comfortable, and discreet
-Very quiet, almost silent
-Made of silicone
-Does not contain phthalate
-Comfortable for all sizes and positions
-It can be put at various places on the penis for panoply of pleasures.
-Multiple satisfactions:  Stimulate the G spot during penetration, stimulate the clitoris, and stimulate erection
-Perhaps placed on sex toys such as dildos to increase pleasure
-Increase the appearance of the penis's volume.
-It can also be placed on a finger
-Safe
-Replaceable, non-mercury battery.
-Improves the couple's sex life.
P.S.  You'll feel maximum pleasure if you wear a condom over the GPS Lover if it is placed on the penis. The condom will remain in place during your lovemaking.
You want the best device available to couples. The GPS Lover is the one that will give you the best experience for the money, but more importantly, for your pleasure. The GPS Lover is absolutely the product that you need. No.FG001