Hemp Seed Tin Naked in the Woods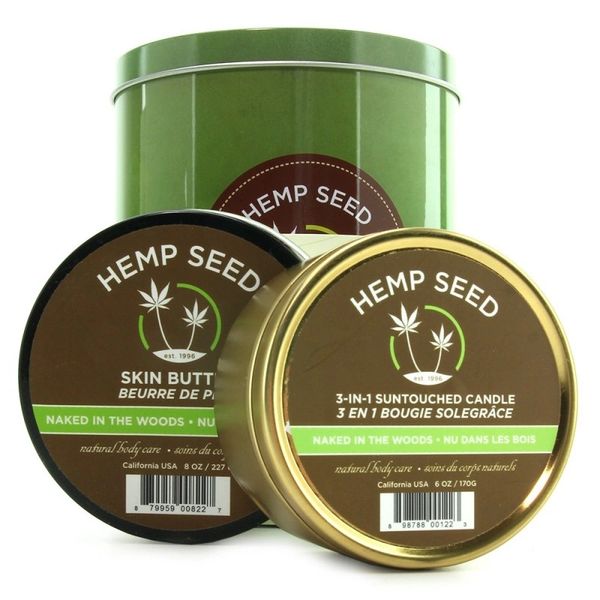 Hemp Seed Tin Naked in the Woods
A dreamy, creamy, duo of deliciously scented, all-natural skin-loving treats from Earthly Body, the Hemp Seed Skin Care Tin contains two must-have treats for body and soul.

A mouthwatering, clean burning scented candle, silky smooth massage oil and effective moisturizer all in one, the Suntouched Massage Candle from Earthly Body is a healthy, environmentally friendly, downright delectable treat for the senses. Made with completely natural, high end ingredients that nourish and moisturize the skin while adding a dreamily smooth glide to hands-on touch, the melty, indulgent scent and silky feel helps soothe away stress and tension. To use, light up the candle and place it somewhere safe while the wax melts into a super smooth moisturizing oil and an incredible scent fills the room. Next, blow out the candle, and drizzle or spoon the pleasantly heated wax over the body and massage into the skin. Anyone with sensitive skin will appreciate the truly natural ingredient list, you can pronounce and recognize everything, from soybean, coconut, hemp seed, apricot, jojoba and avocado oils to nourishing Vitamin E. The candle has a burn time of several hours, the unused wax will solidify once it's cooled completely, letting you enjoy the oil as long as it lasts. Contains 6.8 oz (192ml) of oil.

The complementary Skin Butter is absolutely bursting with natural botanicals, fruit and nut oils along with  shea butter and hempseed, it's dreamily thick and rich, nourishing deeply as it melts into the skin. Containing absolutely no parabens or petroleum based additives, the Butter is a much more natural choice, ideal for sensitive skin and body care purists, plus the fragrance is light and fresh, not overpowering at all. Earthly Body products are completely cruelty free. Apply as often as needed to thoroughly hydrate dry skin, for best results, use straight out of the tub or shower. Tub contains 8oz (227g) of Butter.