inmi Bloomgasm The Rose Buzz Air Stim & Vibe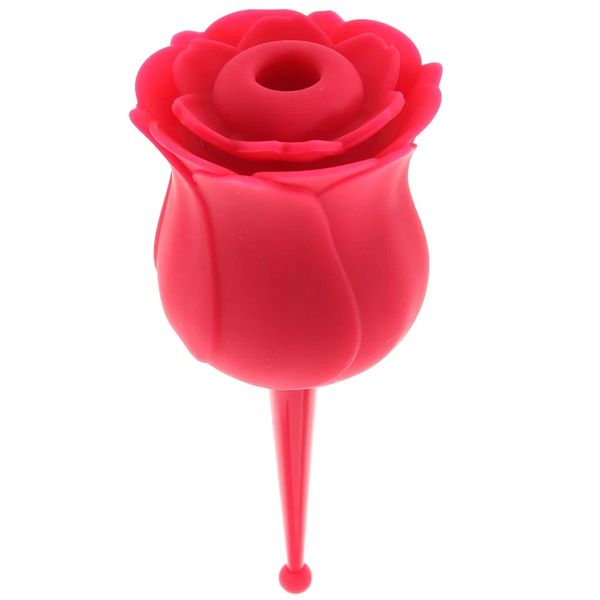 Product Description
Listen, we like roses as much as the next person. But given the choice between something that looks pretty for a few days (and has the potential to prick you) and something that gives you an orgasm, it's pretty safe to say that the orgasm-giving thing will win out. Here's the thing - with the inmi Bloomgasm The Rose Buzz Air Stim & Vibe, you can have both! We wouldn't say that this unique double-ended smells sweet - thanks to The Rose's high end silicone construction, it doesn't smell like anything - but it will definitely make you or your clitoris-owning partner feel pretty sweet.  

At one end, you'll find silky folded petals surrounding Bloomgasm's scintillating suction tip. Position it gently over your or your partner's clitoris, nipples and other outer sweet spots to experience five possible modes of  orgasmic positive and negative air pulse pressure. 

As for the Rose's stem, there are no thorns to be found! Instead, there's a tiny vibrating tip with the potential to pinpoint even the tiniest of your/their pleasure places. Seven more modes of vibration wait to please - the four patterns and three intensifies are separately controlled using dedicated air stim and vibration buttons.

Conveniently rechargeable via USB, the inmi Bloomgasm The Rose Buzz Air Stim & Vibe includes a handy dandy magnetic base charge cord. 

In body safe silicone, the Bloomgasm is hypoallergenic, non-reactive and safe for sensitive skin. It's also extra easy to clean using warm soapy water or a good toy care fluid/foam. This toy is compatible with any favourite water-based lube, but please avoid contact with silicone lubes and other silicone toys/products. This stimulator is not rated for use in water, so please keep your Rose on dry land.