JO Premium Silicone Lubricant (4 sizes)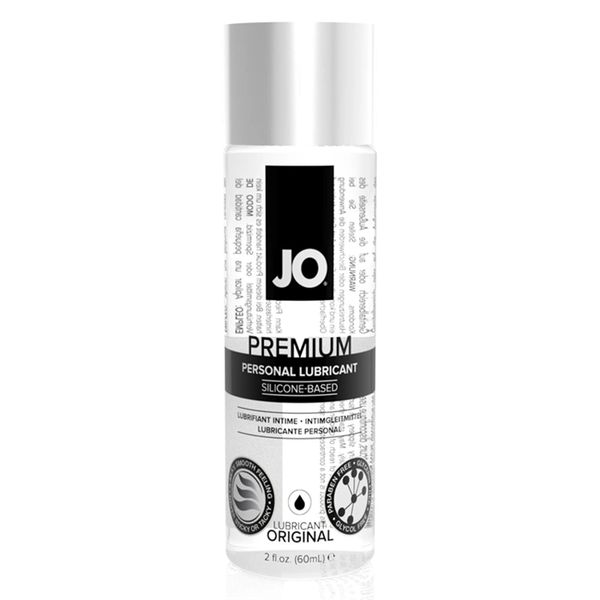 JO Water based lubricants are excellent products, but what if you are feeling a little amorous in the shower or the bath? Water based lubricants will not fill the need. Hence the name water base, it will wash off as soon as the water hits. JO has thought of that and came out with its PREMIUM PERSONAL LUBRICANT. This PREMIUM silicone lubricant, will deliver in water what no other lubricant will. Premium will deliver a supreme sensual comfort with a silky smooth glide like liquid velvet. In or out of the water you will be amazed at the texture. There is no need to worry about this hypoallergenic, long lasting, slippery smooth lubricant.
JO uses nothing but the finest pharmaceutical grade ingredients and is backed by an OTC drug licence from the FDA. JO is ISO certified and is a USDA certified organic manufacturer.
Silicone based personal lubricant and moisturizer
Formulated with pharmaceutical grade silicone
Ultra smooth and slick to the touch
Hypoallergenic formula
Ideal use for vaginal dryness
Great for menopausal women
Odorless and flavorless
Latex, condom, and sex toy friendly
Never sticky or tacky
Perfect for use in the tub or shower
Designed to be used by both men and women
NOT recommended for silicone toys
Travel size bottle
Refillable bottles
No animal testing
 Directions: Apply a small amount of JO Personal Lubricant to the genital area. For condom use, you may apply to the outside of the condom surface.
Ingredients: Cyclopentasiloxane, Cyclotetrasiloxane, Dimethiconol, Dimethicone
Sizes:
2oz (60ml) - 36.99
4oz (120ml) - 59.99
8oz (240ml) - 79.99
16oz (480ml) - 119.99