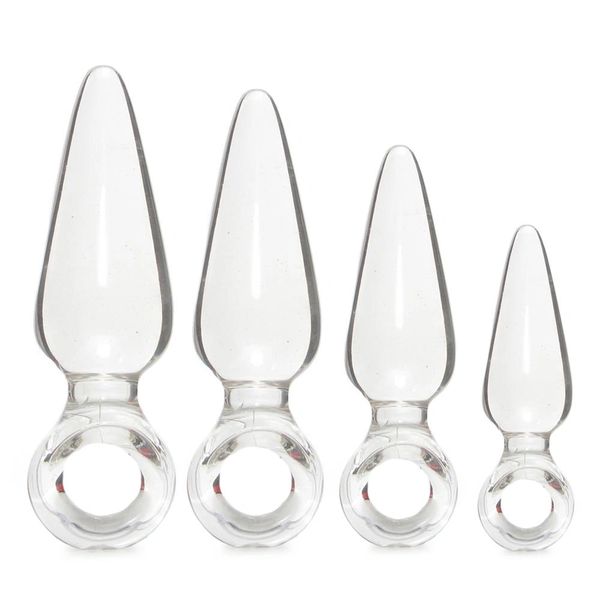 Combining four slick, supple, classically shaped jelly plugs into a kit perfect for anal beginners, ns novelties presents the Jolie Trainer Kit for lots of backdoor comfort, safety, and certainly pleasure. Each of the plugs in this great set was designed for exciting stimulation of the nerve packed anal canal; the thoughtful graduated sizing allows you to move through the sizes as slowly or quickly as needed.
Ranging from ultra petite to relatively large with two perfectly mid-sized versions in between, the tapered shape of each gently, but very effectively introduces anal penetration to sex or self-love. Naturally providing a gentle stretch to the anal muscles, which becomes more dramatic as you move through the size scale, each inserts easily and smoothly. Once fully inserted, the thinner neck at the base helps hold the plug securely- your Jolie of choice could conceivably be left in place during almost any other sexy activity, adding exciting, unique stimulation that can be incredibly exhilarating. Like any good butt plug, the base is wide and easy to handle- the large loop helps prevent too-deep penetration (although, as with any anal toy, common sense caution should be exercised) and helps with positioning and maneuverability as you play.
Made from a soft elastomer jelly material with no phthalates, you'll be able to flex and bend each Jolie to fit your shape, they're nice and supple, although when in place,  firm enough to satisfy. Use a great quality water or silicone based lube with the Trainer set, either formula will be compatible with the plush material.