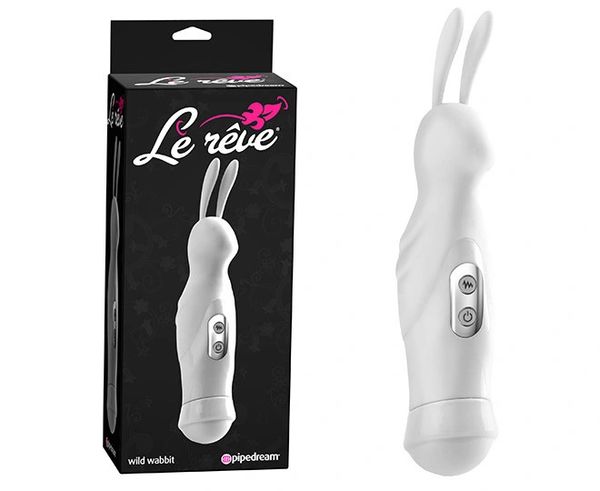 Le Reve Wild Wabbit White 
A gorgeously silky, intensely powerful seven function vibe designed to perfectly lavish breathtaking patterns of pleasure against innumerable outer erogenous zones, Le Reve's curvy Wild Wabbit in incomparably velvety, blissfully temperature sensitive silicone is delightfully manageable and packed with a host of high-end, definitely satisfying features.
The Wabbit's slim, ultra ergonomic, travel friendly shape and petite, smooth handling will appeal this vibe to any solo pleasure seeker, the light weight styling and easily maneuvered base renders this vibe wonderfully easy to control and position while fitting comfortably in hand, though it's certainly suited to couple-geared  scenarios, too. Tipped by a pair of long, softy tickling ears curved teasingly upward, thrillingly precise clitoral stimulation goes without saying- the Wabbit is small enough to fit into many sexual positions, ensuring that desired pleasure points are paid the attention they deserve. Seven thrilling functions wait for a touch of one simple button, cycle through the options with just a push, and shut things down instantly with the dedicated power button.
Combining with the sensations from the motor will be the super soft, velvety feel of the hygienic, hypoallergenic silicone, which is one of the most sought after materials in the industry due to it's safety and incredibly silky touch. Silicone warms deliciously to match body temperature in a very short time, providing a lifelike feel unlike any other- use a great water based lubricant if needed with the Wabbit to keep this fantastic material in top form. Vibe requires 2 AAA batteries (sold separately). Waterproof.

Specifications
Length: 7"

Girth: 5.25" at largest point

Width: 1.5" at largest point

Materials: Silicone, ABS Plastic

Battery: 2 x AAA Batteries

Special Features: Waterproof, Multi-Function, Temperature Sensitive, Hypoallergenic, Phthalate Free

Color: White