Lucky 7 Ultimate Anal Kit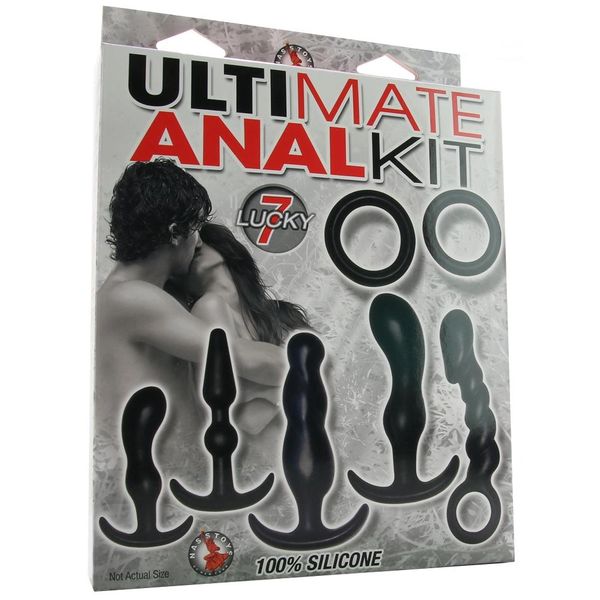 It won't matter what kind of butt sensation you're in the mood for when you pull out the Lucky 7 Ultimate Anal Kit - this seven (shocking, we know) piece collection contains a plug or probe to satisfy. There are also two super-smooth silicone cock rings included, but those aren't for your butt!
Inside the Lucky 7, you'll find five distinctly different silicone anal penetrators, two tiny and three larger. The smaller tapered and curvy versions are perfect for butt play beginners, from simple stretching to possible p-spot massage. The larger probes will satisfy a little more intensely, perhaps after a warm-up with the smaller numbers? However you choose to play, each silky plug or probe boasts a nice wide or ringed base for slip-free fun.
In body safe hypoallergenic silicone, the Lucky 7 plugs (and cock rings) clean easily and thoroughly using warm soapy water or a good toy care fluid/foam. Compatible with any favorite water-based lube - please avoid contact with silicone lubes and other silicone toys/products.
Included
Mini prostate plug - 3" (7.6cm) insertable, 1" (25cm) at largest diameter
Large prostate plug - 3.9" (9.9cm) insertable, 1.3" (3.3cm) at largest diameter
Mini tapered plug - 3.5" (8.9cm) insertable, 1" (2.5cm) at largest diameter
Large curvy plug 3.9" (9.9cm) insertable, 1.3" (3.3cm) at largest diameter
Large twisty plug 3" (7.6cm) insertable, 1" (2.5cm) at largest diameter
2 Cock rings at 1.7" (4.3cm) and 1.6" (4cm) in diameter