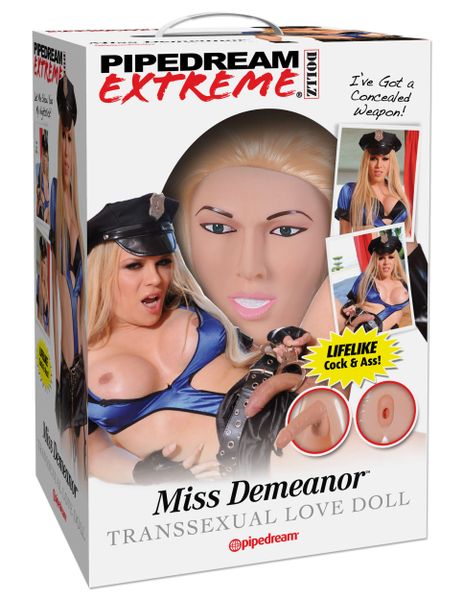 Want to see what's hiding under this sexy copper uniform of mine? I've got a concealed weapon and its cocked, locked, and loaded! I am Miss Demeanor, the cocky cadet who is guilty of packing some serious heat! You've always wanted to know what its like to have hot sex with a cute little chick with a big dick, so now's your chance to see what's hiding under my badge! Squeeze my huge round tits, my pretty face, and make sure you suck my big cock! Do my ass, then let me return the favor and do yours too! I'm all yours to enjoy, every INCH of my nightstick!

This incredible life size inflatable love doll was meticulously designed with realistic features for a truly lifelike experience. Her sexy 3-D molded face is topped with a luxurious head of hair that's begging to be pulled! Give her perky breasts a squeeze and enjoy her super soft and lifelike nipples. Her firm, 7-inch cock and super tight ass feel even better than the real thing!
An inflation pump, vinyl repair kit, and instructions are conveniently included.
Features: phthalate free. Inflates, multiple entries. Body Vinyl, Face, Penis Ass PVC. Hair Polyester.