Mood Steamy Silicone Ben-Wa Balls in Blue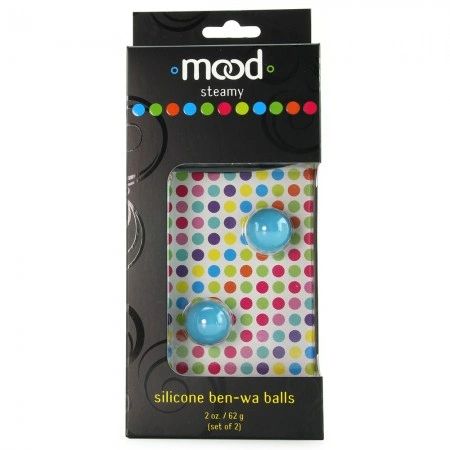 A gorgeously silky, deliciously weighty set of Ben Wa Balls from Doc's Mood collection, this decadent set takes the concept of the famed ben wa or kegel ball to new, pleasurable heights, offering a silken silicone version in bright blue.

A wonderful way to prime for pleasure, strengthen pelvic floor muscles and increase sexual awareness, this type of sex tool has been around for decades, long before a much-publicized appearance in the erotic Grey Shades trilogy. In Japan, elite courtesans were thought to wear the balls constantly as a way to strengthen the pelvic floor muscles in order to deliver unforgettable sexual experiences for their lovers. Today, this type of sexual tool is still used in a variety of ways, but most often, the balls are used as kegel weights for vaginal strengthening and to increase sexual awareness. The weighted balls help to exercise the muscles in the pelvic floor responsible for sexual pleasure, while keeping the vaginal walls elastic and responsive to stimulation and pleasure.

This silken silicone duo was ideally designed for customized use and enjoyment. If you're a true beginner, you may want to start out with a single Ball to practice holding it in place, the set combined is 2 oz (56.7 grams), with each bead weighing in at 1 oz ( 28.3 grams). Once you have the Balls inside you, in whichever combination of weight you desire, they'll naturally pinpoint the muscles needed to create a stronger pelvic floor, as you'll need to contract these muscles to keep them(s) in place. For those who already practice kegels and vaginal strengthening, the weighty spheres can help further tone and highlight some of the more subtle contraction combinations and muscle reactions.

Aside from the practical applications of this fantastic system, the Balls also work wonders at increasing sexual awareness, moving around while wearing them creates a pleasant, subtle feeling of pleasure, as the Balls gently jiggle, naturally stimulating the vaginal area. Many women love the feeling of the beads inside them, and find that it increases desire, offering a great way to get physically and mentally primed for sex. Since this set is so incredibly discreet, you'll be able to wear it unbeknownst to anyone, letting you get your workout (or simple pleasure) secretly and enjoyably.

Made of incomparably hygienic, hypoallergenic silicone, these velvety, virtually seamless Balls are ideally suited to delicate skin, plus, they clean thoroughly and easily. Silicone is also notably temperature sensitive, warming very quickly to match body heat with use while providing a plush, ultra soft surface with a precision weighted core. Always use a good water based lubricant if needed with the Balls, avoid silicone formulas and contact with other silicone products. Plush storage bag included.