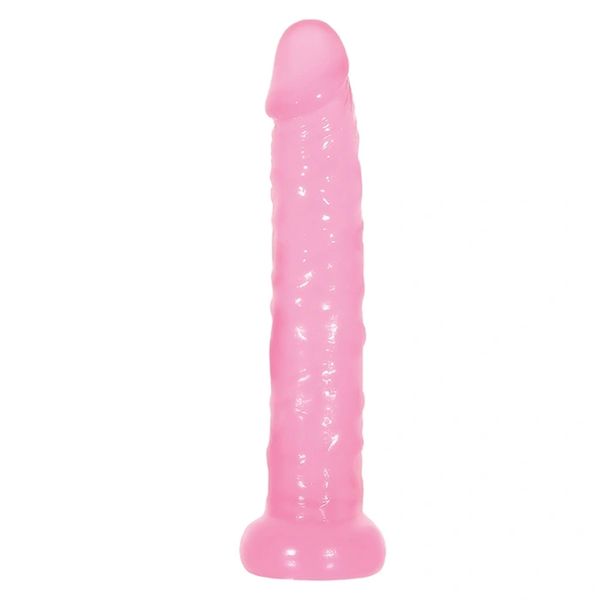 The Perfect Goes Anywhere, Does Anything Dildo! 
Slender, flexible and seductive! It's 6" long and 1" wide for easy vaginal play and anal exploration. Dip it into your favorite love zone! Wide base makes it easier to hold onto. Veined details pop out and stimulate! Molded from super flexible TPR material. Realistic looking! Perfect for anal beginners, be sure to use with water-based lube. 
• Pink Jelly Slim Dildo
• Insertable to 5.5", 1" wide
• Hot phallus shape
• Vein details stimulate and hold onto lube
• Super flexible TPR material
• Waterproof
• Wide base for easy control 
Take aim with this bad boy and probe, poke, thrust away at your deepest erogenous zones. Please her kitty and rub the tip against her clitoris –– or slide the Pink Jelly Slim Dildo towards her G-spot for sexual nirvana. A flexible pink TPR material body makes that easy.
And don't blush –– your Pink Jelly Slim Dildo makes the perfect butt toy for any shy beginner. A tapered tip that looks like a real penis makes entry easy. A 1" wide body offers thrilling stimulation without strain.
When playtime's done, wipe down your Pink Jelly Slim Dildo with toy cleaner or use warm soapy water, rinse and pat dry. Store away from other sex toys.