Pleasure Overload Take It Slow Anal Kit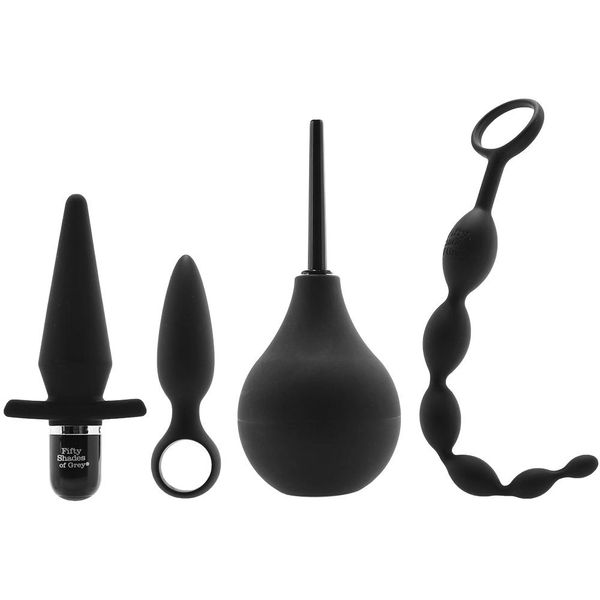 f a little (or a lot) of anal experimentation and pleasure happens to be in the cards for your upcoming night/day/vacation etc, the fully stocked Pleasure Overload Take It Slow Anal Kit from the official Fifty Shades of Grey has you and your butt covered! The four anal play essentials inside are perfect for beginners and just as great for a warm up to more advanced level penetration, too.  
Starting things off, you'll find a classic douche to get you clean and comfortable in preparation for backdoor play. It's incredibly easy to use, consisting of a soft, squeezable rubber pump ball and a firm removable 2.5"/6.4cm plastic tip. 
The second part of the kit is a petite silicone plug with a nice slim tapered tip and body that smoothly widens toward the middle. At the bottom end, the shape tapers down to a flared ring handle, making the plug safe for full penetration and keeping it in place worry-free. 
Next up is a super-sexy vibrating plug. Complete with wide base, an ultra slim tip and lots of deep-delving length, it's perfectly sized for butt play novices. Fully waterproof and 100% body safe, it requires just one simple AAA battery to get buzzin' in 10 possible rhythms. Battery sold separately.
Last but not least is a long strand of flexible silicone beads. Extra manageable, and ultra silky, the strand offers up 6 oval swells to play with. Starting off tiny and growing very gradually in size, the Beads follow a nice predictable pattern that's perfect for butt play beginners and novices. A big ringed  handle makes removal, re-positioning and sexy tugs/twists a breeze. 
In ultra hygienic and hypoallergenic silicone plus hygienic ABS plastic (douche tip), each Take It Slow Kit's pleasure piece sanitizes easily and thoroughly for good clean fun. Wash well before and after use using warm soapy water or a favourite toy care fluid/foam. You will, of course, be using lots of lube with these toys, so be sure to choose a good quality water-based formula. Please don't be tempted to use silicone lubes- they can break down the material. On that note, it's best to keep these toys away from other silicone products. 
* Measurements below represent the vibrating plug. The non-vibrating plug measures approximately 3"/7.6cm insertable and 1"/2.5cm in diameter, beads measure about 7.5"/19cm insertable and 1"/2.5 at widest diameter