Rianne S Soiree Booty Plug Set 3X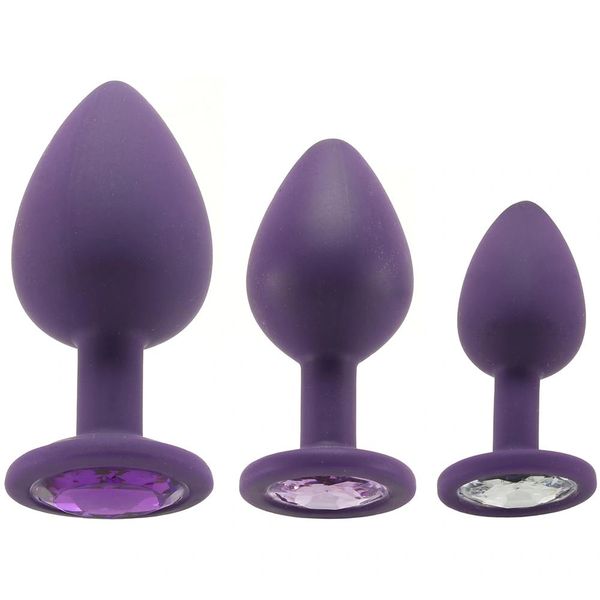 Providing (lots of!) pleasure to people across all levels of butt play experience, the Soiree Booty Plug Set features three silky plugs varying in size from tiny to more filling. Each shaped into a classic taper, the plugs offer you or you and your partner tons of smoothness, a long neck designed for comfortable long term wear and a glitzy crystal embedded through the base.
Designed to be easy to enjoy in all sorts of sexy situations, each Booty Plug penetrates smoothly and comfortably, gently stretching and stimulating as it widens toward the largest midpoint. A nice big circular base studded through with that sparkly crystal acts as a barrier against too-deep slips, so feel free to delve deep. If you're a beginner, or looking to warm up to something bigger, start with the smallest 3.7" (9.5cm) plug, move up to the medium 2.8" (7.2cm) when you're ready, and save the largest 3.2" (8.2cm) for the finale. 
Warming naturally to body heat during play, and able to be heated or cooled more dramatically beforehand, the Booty Plugs silicone construction offers some seriously unique backdoor sensation potential. 100% body safe, completely hypoallergenic and ultra hygienic, each Plug cleans easily using warm soapy water or a good toy care fluid/foam. Compatible with any great quality water based lube- avoid contact with silicone lubes and other silicone toys and products.