Sensuelle Mini Plug Black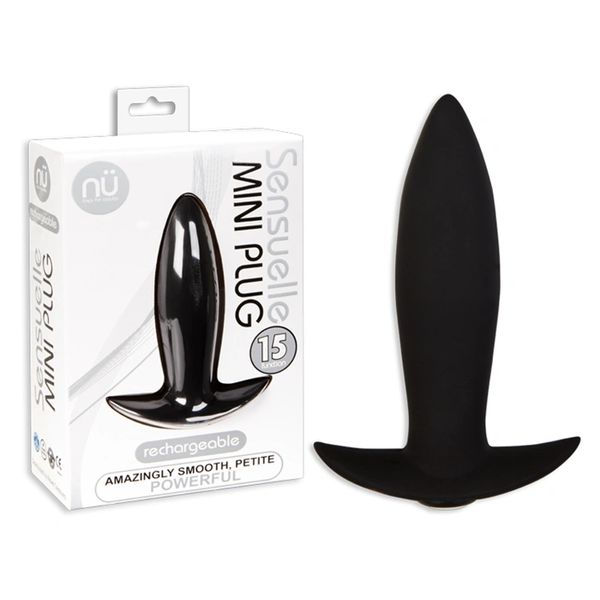 The NÜ Generation in Personal Stimulation
Discover your deepest sensual desires with NÜ Sensuelle Erotic Toys, designed to meet your every need.
Using state of the art vibrational technology with easy touch controls to increase of decrease the mode of vibration to satisfy your Sensuelle desires.
Easy to recharge so that NÜ Sensuelle is always ready at your fingertips for whenever you are in the mood for an amazing experience.
NÜ Sensuelle rechargeable Mini Plug has powerful stimulations to enhance your sensations.
NÜ Sensuelle rechargeable Mini Plug has a deeply intense motor, with multi function modes and vibrations to create powerful sensations with ease.
AMAZING SMOOTH, PETITE, POWERFUL
Material :
Silicone & ABS
Care instructions :
Wipe with warm soapy water or with a suitable toy cleaner recommended by your retailer.
Instructions :
Press button at bottom to turn On power
Click to cycle through 15 different vibration modes
Press and hold button for 2 secs. to stop vibration.
(Blue ambient light flashes when the unit is On)
To charge :
Attach magnetic chargers to the pins at the back of the Sensuelle Mini Plug.
The unit can be charged via a computer or adaptor with USB port.
Other Specifications :
- 15 Function
- 4'' (10.16cm) Length
- 0.70'' (1.77cm) Diameter / width
- Uses USB plug-in
- Phthalate Free
- Waterproof
- Sold as novelty only
- No medical claims are warranted or implied by use of this product