Shock Therapy Replacement Pads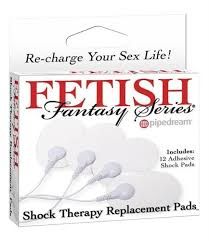 Warning:Current must never flow through the heart. Do not use if you have a pacemaker, are pregnant, if you suffer from epilepsy, or on any broken or inflamed skin.
This set of Fetish Fantasy Shock Therapy Replacement Pads are direct replacements for the Fetish Fantasy Shock Therapy Kit. Each oval-shaped pad measures 2.5 x 1.5 and connect to the lead wire using snaps. The pads are self-adhesive and clean up easy.
Lead wires and adapters (not included). Requires 2 AAA batteries (not included).
*Lubricants are a natural paired product to electro stim toys as they are needed to completed the circuit between the toy and skin, and also help avoid skin irritation. Water based lubricants are recommended based on their high ability to conduct electricity. Silicone is a natural resistor and is not recommended.
Please Note: This is an attachment for Fetish Fantasy Shock Therapy Kit. This does not include a power source.