Shunga Erotic Massage Gel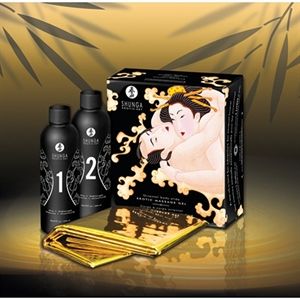 This oriental body-to-body massage is an intensely sensual and pleasing experience where two bodies, in almost complete weightlessness, move effortlessly against each other in a slip-and-slide motion. Once the body gel is poured onto the two naked bodies, it creates an intoxicating and aphrodisiac effect. The skin turns silky smooth and transforms tender caresses into sensual touches. 2 bottles of 225ml (7.6 fl. Oz) Bottle 1 contains the aroma, bottle 2 contains the activator.
 Benefits
Makes 1 gallon of gel
Waterproof sheet included
Detailed instructions
 Directions
Step 1: Fold your thick sheet in two and place on floor
Step 2: Roll towels on the length side to form a cylindrical or tube-like shape and place onto the patted surface by following its edges to form a rectangle.
Step 3: Unfold gold waterproof sheet and recover the surface by carefully smoothing out the center and level out edges in order to form a basin-like shape.
Step 4: Pour 3.5 Qts (3.5L) of warm tap water and bottle #1 in the selected container.
Step 5: Add bottle #2 and mix well. Creates 4 Qts (4L) of Massage Gel.
Gently pour the lukewarm Massage Gel on your lover's body. Begin the body-to-body massage. Let your imagination be your guide. Let the fun begin!
*All the instructions are illustrated in the front panel of the packaging.
Characteristics
Paraben Free, Fragrance Free, Latex Friendly, Gluten Free, Vegan, Safe with Sex Toys, Sugar Free, Water Based, Wash with Water