Shunga Sweet Snow Body Powder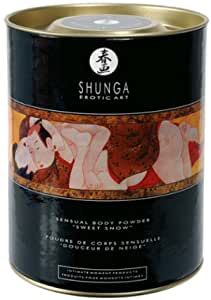 This decadent body powder is a light and delicate treat that dusts the skin for one of a kind softness. A feather applicator helps you apply this scented powder right where you want it, leaving a silky glow.
Perfect for finishing off your bath routine to lock in a light yet irresistible scent leaving you feeling soft, dry and soothed.
As the powder has drying properties, it can be applied to prevent irritation caused by friction.
Talc free.