Silhouette S3 Clitoral Stimulator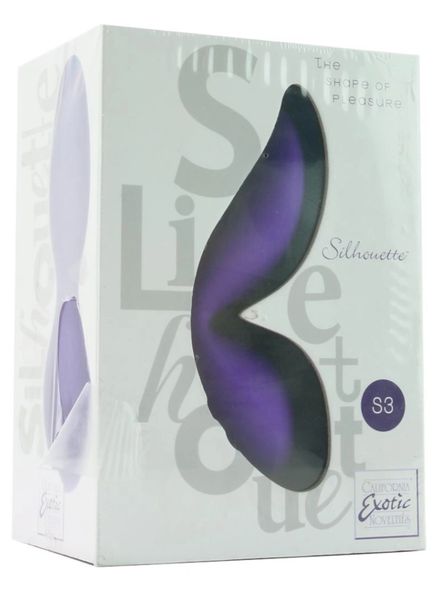 Inspired by the perfect pleasure of an always-attentive (and totally tireless) tongue, the Silhouette collection's S3 vibe does the real thing proud, adding five throbbing, tingling, pulsating rhythms to an amazingly flexible, blissfully temperature-receptive shape.

Thrillingly silky, the S3's silicone surface feels extra soft against the skin, warming quickly to meet body temperature as it glides, licks and flicks around and against the clitoris and other pleasure-craving external sweet spots. Flexing dramatically at the midpoint, the curvy tongue can tease and please from just about any angle- it's a fantastic choice for added stimulation during sex and foreplay, and perfect for solo love, too.

Five possible rhythms of steady, pulsating and escalating vibration undulate evenly throughout the entire shape with a touch of a button- hold to increase the intensity of the chosen mode and shut things down instantly with a dedicated power button above. Fully rechargeable, the S3 powers up at any free USB port or via a compatible wall adapter. A 2.5 hour charge will see the battery at full capacity, resulting in up to 2.5 continuous hours of enjoyment (depending on mode and intensity). Required power cord included. 

Completely hypoallergenic and ideal for pleasure seekers with irritation-prone skin, the this Silhouette piece is  incredibly hygienic, sanitizing thoroughly in warm soapy water or a good toy cleansing fluid. Always choose a great quality water-based lubricant to enjoy in combination, silicone formulas should be avoided, as should contact with other silicone toys and products. Fully waterproof.
Specifications
Length: 5"
Girth: 4.6" at largest point
Width: 1.4" at largest point
Materials: Silicone
Power Source: USB Rechargeable
Special Features: Flexible, Hypoallergenic, Multi-Function, Multi-Speed, Non-Phallic, Phthalate Free, Smooth Surface, Temperature Sensitive, USB Rechargeable, Waterproof
Colours: Purple, Pink