Stella II Double Kegel Ball Set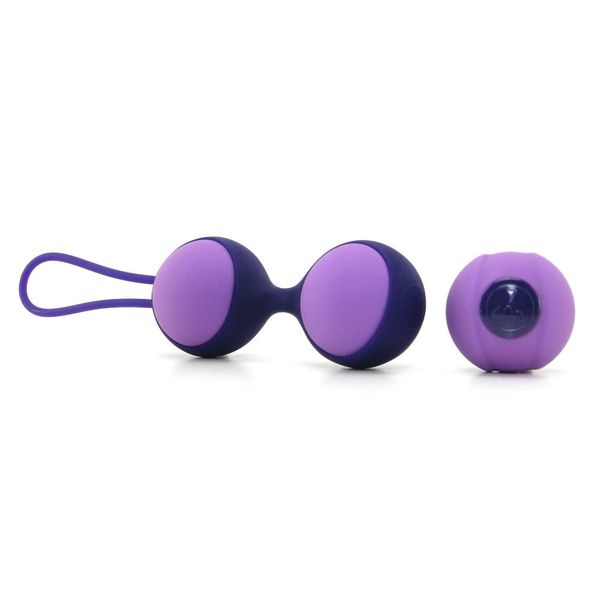 A beautifully crafted set of silky silicone-wrapped kegel balls from Jopen's luxurious Key collection, the Stella II is a fantastic take on the classic ben wa ball, created for perfect customization, pleasurable wear, and even more pleasurable results.
Tucked securely into a velvety silicone girdle, two of three available perfectly weighted spheres inspire voluntary contractions of the vaginal muscles. Over time, Stella II helps to strengthen and tone the pelvic floor muscles responsible for sexual pleasure, control and orgasm enhancement, while pinpointing the movements needed to practice kegels without the balls in place.
Offering several combinations of weight, the Stella II comes complete with a choice of three silicone spheres, two are 40g (1.4oz) each and one is 30g (1.1oz). Beginners should start with the lighter combination, which works out to 70g (2.5oz), graduate up to the 80g (2.8oz) combination when you're ready. Each smooth, silky ball slides out of the snug girdle for easy customization- when replacing, be sure to position the plastic Key logo upward.
Aside from the practical applications of this fantastic system, wearing the Stella set is a wonderful way to gain increased sexual awareness, moving around while wearing the beads creates a pleasant, subtle feeling of pleasure, as the free-form weights within gently vibrate and jiggle, naturally stimulating the vaginal area. Since the Stella set is so incredibly discreet, you'll be able to wear it unbeknownst to anyone, letting you get your workout (or simple pleasure) secretly and enjoyably.
Both the balls and girdle are completely body safe, phthalate free and extremely hygienic, not to mention hypoallergenic and perfect for users with sensitive skin. Silicone also warms quickly and naturally to match body temperature with touch and play, making it incomparably lifelike in terms of feel. Use a good water based lubricant, if needed, avoid silicone formulas and contact with other silicone toys whenever possible.
* Stella is approximately 6" (15.2cm) in total and 3.5" (9cm) insertable