The Usual Suspects Iconic Pocket Vibrator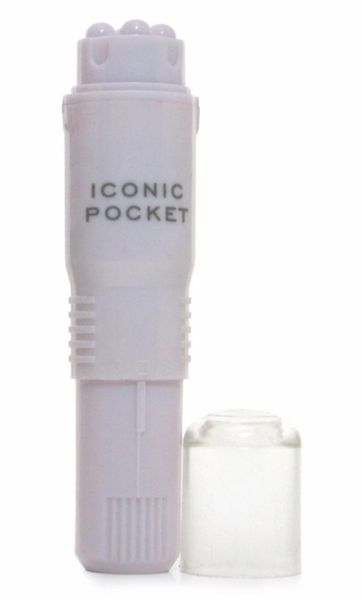 A pure white, pared-down classic from Jimmyjane's Usual Suspects line, the Iconic Pocket Vibrator, like the rest of this pristine collection, transforms the most recognizable pleasure objects of the day into blissfully user friendly must-haves that are designed perfectly for beginners and true staples of any well-rounded toy collection.

Historically significant as one of the first truly portable portable vibrators (or massagers, for the demure-minded) in circulation, the the Iconic is no exception. Completely discreet and absolutely ideal for travel, this Pocket Vibrator is only slightly larger than a lipstick, so it can be  tossed in a purse, briefcase and yes, a pocket too. 

Featuring a head embellished with four rounded, raised points of contact, the Pocket perfectly pinpoints outer erogenous zones with impeccable ease. Wonderfully conducive to both solo and couple-centered stimulation desires, the Iconic's lightweight, extremely manageable shape snuggles naturally agasint the clitoris or otherwise, spreading stimulation evenly through those four nodes, though the smooth, rounded cap can certainly be left in place for a more subtle sensation. That same sleek maneuverability comes in blissfully handy during sex, too, unobtrusively providing the type of unrelenting clitoral stimulation key to orgasm. There's a single mode of steady vibration available, it's no-nonsense powerful, delivering consistent, reliable results- simply switch the base to the 'ON' position.

The sleek, firm ABS plastic material comprising this vibe is completely body safe and hypoallergenic, containing no phthalates or latex, and thanks to the firm, nonporous nature of plastic, is extremely hygienic, wiping clean with simple soap and water or a good toy cleaner. Compatible with all lubricant formulas. Requires 1 AA battery, which has been thoughtfully included. Waterproof.
Specifications
Length: 4.1"
Girth: 3" at largest point
Width: 1" at largest point
Materials: ABS Plastic
Power Source: Batteries
Battery: 1 x AA Batteries
Special Features: Non-Phallic, Phthalate Free, Waterproof
Color: White