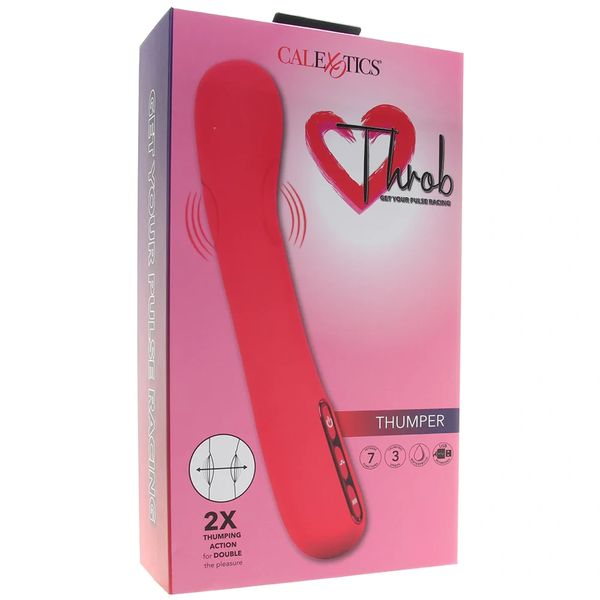 If you've managed to drag your eyes away from the hypnotic, fire engine red Throb Thumper Vibe long enough to read all about it, seriously, congratulations! Here's the thing though, aside from a silky scarlet surface, a beloved curvy shape and seven rumbly modes of vibration, the Thumper also showcases a very special double-sided thumping shaft that pulses and throbs tirelessly against your/your partner's inner sweet spots. Not just a pretty face, as they say.

Thumper's classic, strategically curvy shape was specifically tailored to inner sweet spot pleasing and is just the thing for g-spot seekers, but if you're not in the mood for penetration, it works spectacularly well as an external (think clitoris, nipples, head of penis), too. Smooth at the tip, the Thumper penetrates comfortably and very, very pleasurably. The plushy, curvy shaft nearly instantly targets your/your partner's g-spot and other inner erogenous zones - there's lots of length to play with when it comes to finding that perfect fit. 

Speaking of the shaft, it's where Thumper's namesake thumping potential comes pounding onto the scene. On either side of the sexy swollen penetrator, you'll see two ovals. Underneath, an extra intense inner mechanism literally thumps and thuds in multiple directions, tirelessly massaging and stimulating g-spots and beyond. Take your pick from three possible thumping modes, which can be mixed and matched with seven modes of vibration. Vibration and the thumping feature are separately controlled, so while you can certainly enjoy each alone, we highly recommend pairing them up!

A dedicated power button activates the Thumper's motor, cycle through three shaft thumping modes with the button below, and use the bottom button to cue up vibration. 

Conveniently rechargeable via USB, the Throb Thumper Vibe powers up using the included cable and any free USB port (or compatible adapter). Approximately 2 hours of charge time will provide up to 80 continuous minutes of enjoyment.

In 100% silicone plus ABS plastic, the Thumper vibe is body safe, phthalate free and extra hygienic. Wash well before and after playtime using warm soapy water or a good toy care fluid/foam. If you'll be pairing a lube with this vibe, please use a favorite good quality water-based formula. Please avoid contact with silicone lubes, and store away from other silicone toys. Waterproof. 
Features
Length: 8.5"
Insertable Length: 5.25"
Girth: 4.75" at largest point
Width: 1.5" at largest point
Materials: Silicone
Power Source: USB Rechargeable
Special Features: Hypoallergenic, Multi-Function, Multi-Speed, Non-Phallic, Phthalate Free, Smooth Surface, Temperature Sensitive, USB Rechargeable, Waterproof
Colour: Red