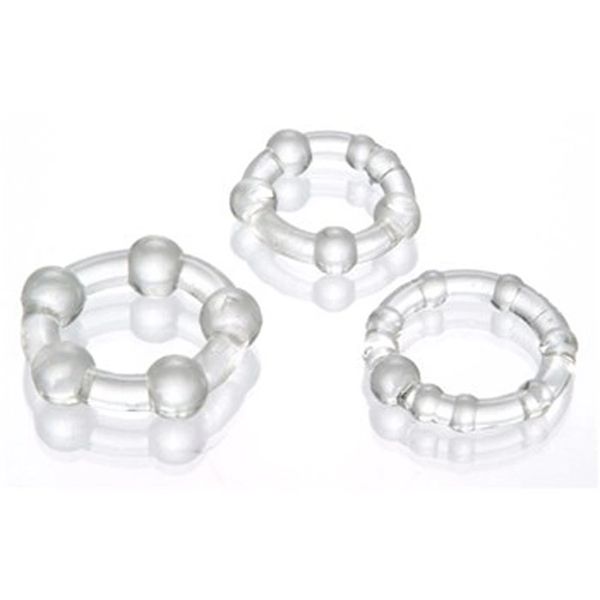 An Erection System designed for customers who want the best. Wear these 3 rings together or separately for new orgasm experiences. You get 3 super-stretchy clear TPE penis rings at one great price. 
3 levels of support: extreme, intense and tight. 
Use one ring as you would normally, or use two rings for harder erections or all 3 for an out of this world erection. Experiment with where you place them on the shaft, together or spaced apart, and turn your erection into a love machine. 
Due to customer demand, all 3 rings have pleasure nubs to provide extra stimulation for both partners as you thrust. 
• Adam & Eve Triple Erection System
• Attractive clear material
• 3 super stretchy, ultra soft TPE rings
• Can be worn individually or together
• 3 levels of support: extreme, intense and tight
• Rings range from 1.12" to 1.37" wide
• Can be worn with condoms
• Waterproof
• Best when worn for 30 to 45 minutes or less 
Penis rings are easy to use and give you immediate results. They work by restricting blood flow and allowing the penis to become larger and larger. With the Triple Erection System you get 3 rings to achieve this. 
Thanks to your Triple Erection System, intercourse is enhanced with a stiffer, harder erection that lasts longer. Masturbation is more pleasurable for many men as well.