Vibrating High Intensity Probe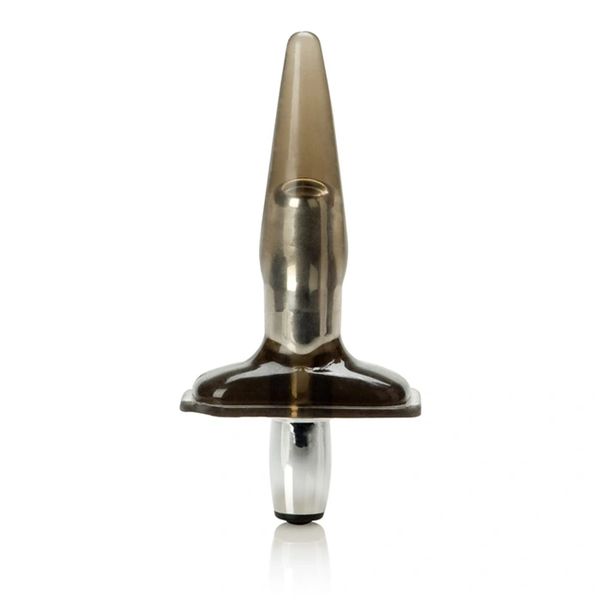 Get your rocks offin style, with the ultra-modern Vibrating High Intensity Probe™. The chic, vibrating, anal sextoy oozes style, with the transparent TPR casing and silver, plated vibrating stimulator. You'll be the master of the bedroom when you whip this little guyout of your bag. It measures an accommodating 3.75 inches in length, and a slender 1 inch in width, making it a discreet anal plug, meaning you are free to take it wherever you like! The stimulator is ultra-powerful, allowing you toenjoy yourself not only in style but to a toe-curling degree! The vibratoris quick and easy to remove from the casing. Not only does this make it a versatile adult toy, but it also makes it incredibly hygienic. This allows you to clean it thoroughly before and after use, maintaining its beautiful appearance at all times. We recommend using this anal probewith a high-quality water-based lube, to allow ease of insertion and removal, and more to the point, to enhance the pleasure this amazing little anal sex toy will give you. Prepare to orgasm in style with the Vibrating HighIntensity Probe™.
This High Intensity Vibro Tease is power packed and ready for fun. Whether you are a beginner or an experienced anal player you will enjoy the stimulation. Its tapered shape is flexible and easy to use. The easy to start push button is located at the base. It has an extended easy grip base which makes manoeuvrability easy and enjoyable. Totally waterproof enjoy your bath even more. You can use the micro tease with or without the vibe. Once removed, you can use the vibe to explore the different erogenous zones on you or your partner. Add this 2 in 1 toy to your collection today.
• Powerful vibrations that resonate throughout
• Slender probe with removable, high-intensity, quiet, push button stimulator
• Extended easy grip base
• TPE (probe) ABS with Silver Plating (stimulator)
• 1 AAA battery (not included)
• 3.75"x 1" / 10 cm x 3 cm
• Colour: Smoke
• Recommendation: Use water based lubricant to enhance your pleasure