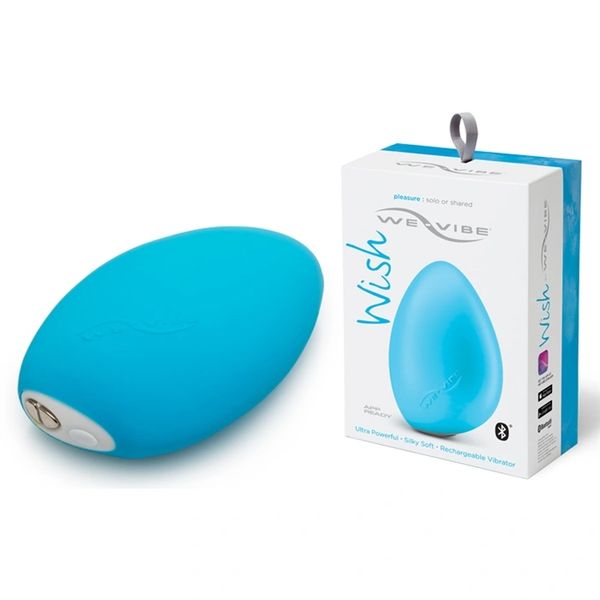 Plush and powerful and all about you.
Pleasure you'll want to sink into. The soft exterior and rumbly vibrations of Wish by We-Vibe stimulate the vulva with deep sensations. Similar to a wand, Wish offers ultra powerful, broad stimulation. Pushing into the product stimulates both the external and internal clitoral nerves. Wish can be enjoyed all over the body, with the tapered tip used for focused vibration. Deep satisfaction awaits you. Unlike anything you've felt before, Wish offers our exclusive PowerPulse™ technology. It's a new vibration sensation that feels like waves of pleasure. Wish is rechargeable, body-safe, waterproof, and has 10 preset vibration modes to choose from. Wish charges via any USB port with a magnetic charging cable that simply snaps into place. A low-power indictor lets you know when it's time to recharge Get more features with the app. With We-Connect™ you can create your own custom vibes and control Wish from right next to you, from the next room— even from the next continent. Share control with your partner and enjoy some long distance excitement that makes it feel like you're together no matter where life takes you.
Create your own mode with the We-Connect App
Feature summary
• Plush exterior with ultra powerful rumbly vibrations
• Broad vulva stimulation — stimulates the external and internal clitoral nerves
• Exclusive new PowerPulse™ vibration technology
• 10+ vibration modes
• App ready — works with the We-Connect™ app for more control and additional features
• 100% waterproof
• USB rechargeable — charges in 90 minutes for up to 2 hours of pleasure
• Low-power alert indicator
• Simple magnetic charger that snaps into place
• Whisper quiet
• Body-safe silicone — free from phthalates, latex and BPA
• Discreet storage bag
• 1-year warranty
Sink into the plush power of Wish by We-Vibe™. 
Experience a new sensation with PowerPulse™ vibration.
Deep satisfaction awaits you.


About We-Vibe
For those of us who embrace passion for love and life, We-Vibe offers ultra-premium sensual lifestyle products designed for pleasure. Our products enhance the intimacy in relationships and the joy of finding pleasure on our own. We-Vibe is a world leader in designing and manufacturing high-quality, body-safe, eco-friendly intimate products. The original and signature couples' product.
We-Vibe, quickly became the fastestselling sexual wellness product of its type in history. We-Vibe products are available in over 50 countries. We-Vibe is from Standard Innovation®, a Canadian company dedicated to shaping the future of sexual health and wellness.