Wet Light Water Based Lubricant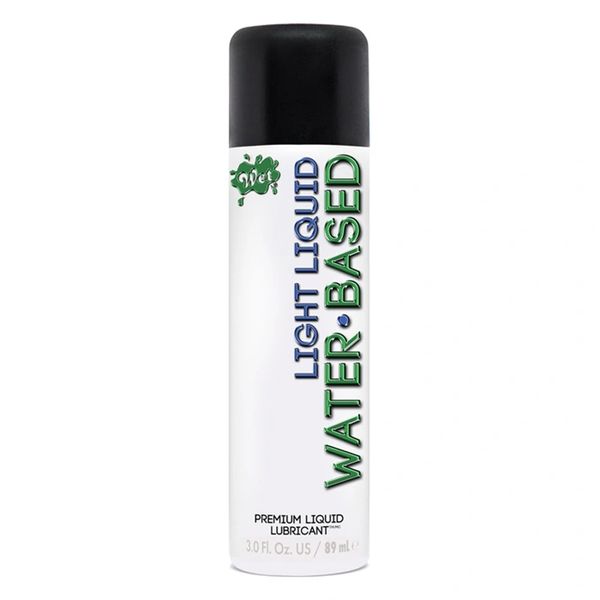 Wet® Light® is a thinner, lighter, liquid version of Wet® Original®. It is also water-based, gentle, odorless, colorless, non-staining and long lasting. Made with soothing Aloe Vera and Vitamin E, it is great for sensitive skin. Wet® Light® is condom compatible and an FDA accepted medical device. It simulates the body's natural fluids and is recommended by doctors and health organizations. For comfort or pleasure, you can count on Wet® Light®!
Pure Water Based
Clean and Non-Staining
Thinner than Wet® Original®
FDA Accepted Medical Device
Hypoallergenic
Refillable bottle
Great for sensitive skin
3.5 fl. oz (103ml)
DIRECTIONS: Use WET® LIGHT® as needed to supplement your natural moisture, enhance intimacy, lubricate latex condoms, and facilitate easy insertion of medical devices. To relieve personal dryness, apply a small amount of WET® LIGHT® to the area of the body you wish to lubricate. Reapply as desired. Harmless if ingested. Easily washes away with warm water.
INGREDIENTS: Deionized Water (Aqua), Glycerin, Carbomer, PEG, Propylene Glycol, Hydroxyethylcellulose, Imidazolidinyl Urea, Sodium Benzoate, Methylparaben, Tetrahydroxypropyl Ethylenediamine, Tetrasodium EDTA, Aloe Vera Leaf Juice (Aloe Barbadensis), Tocopheryl Acetate (Vitamin E Acetate), Citric Acid